Writing
Boot camp: A lot of screaming, not much sleep
PARRIS ISLAND, S.C., Dec. 7, 2012 — During the final 20 minutes of a long pre-dawn bus ride, Manny Baptista was ordered to put his head down and close his eyes. Then brakes screeched, the bus came to a halt, and his silent anticipation gave way to chaos.
"A lot of screaming," Baptista recalled of his arrival at boot camp on Parris Island, SC. "It was just crazy. We weren't used to that environment, being screamed at, being pushed, rushed everywhere. We didn't sleep all night or day."
Baptista, 19, hustled out of his seat and into the darkness. That was on Oct. 9. After eight months of anticipation, joining the Marines had become real.
Born in Cape Verde in 1993, Baptista came to America as a young boy. Now, four months out of high school, he was suddenly a long way from his Quincy home, cut off from family and friends. For 12 weeks, he underwent what Brig. Gen. Lori Reynolds, commanding general of Parris Island, called "the transformation of who you are and what you stand for."
The Marine Corps reinvents the recruit, how he or she sleeps, eats, walks and talks. Its ways are severe, its means low-tech.
Narrow bunk beds, called "racks," stand in rows on a cement floor. Barrack bathrooms, called "heads," have no doors. A drill sergeant's scream wakes recruits at 4 a.m., giving them two minutes to shave, shower and brush their teeth. Hours of physical training, weapons drills, lectures, tests and marching in formation follow.
Recruits eat meals quickly and only at the chow hall; no food is allowed outside. They are forbidden from speaking the words "I," "me" or "my," but instead refer to themselves in the third-person as "this recruit." They are never left alone.
Three four-week phases of training start with learning how to march and memorizing the workings of an M-16 rifle, and culminate with the Crucible, a 54-hour field combat simulation allowing limited food and only eight hours of sleep.
To an outsider, boot camp might appear harsh, mean, irrational. Boot camp is "purposely disorienting," Col. Robert Wayne Jones, commanding officer of the recruit training regiment, explained in a talk he gave at Parris Island during a Marine Corps-sponsored workshop for educators and the media in December. The sharp discipline used to "break (recruits') old ways" aims in three months to "teach the response of instantaneous obedience to orders," he said.
"Parris Island is Parris Island. It's boot camp. It's going to be tough," said Baptista in an interview there during his eighth week of training. "I learn so much each day. Everything we do here is for a reason.
"We chose this. We weren't put here."
Baptista decided to join the Marines during his junior year at North Quincy High. "I always wanted the discipline. But one of my best friends went in first. A year after, I saw how he changed as a person. It motivated me to join. He came back more disciplined. He had goals now. He had a foundation."
Baptista signed a six-year contract with the Marine Reserves. During that time, he plans to earn a bachelor's degree in criminal justice with Post 9/11 GI Bill benefits. After the military, he wants to become a state trooper.
Asked why he volunteered for the Marines, Baptista offered an answer most recruits cannot give: "I wasn't born here. But America gave me so much and for my family, so I feel like I should give back to America.
"We have so much freedom that other countries don't have. We have the choice to vote or not. To go where we want to go.
"I want to go back home as a changed man."
Baptista and his fellow members of Platoon 2005, 2nd Battalion, Golf Company, graduated from boot camp on Jan. 4. After a short rest at home in Quincy, he will report for combat training in North Carolina later this month.
Editor's note: Patriot Ledger photojournalist Amelia Kunhardt traveled to the Parris Island boot camp in December as part of a Marine Corps educators workshop. For four days, workshop participants woke at 4 a.m., ate in the chow hall and followed orders of drill instructors.
Plymouth woman has new kind of knee surgery
PLYMOUTH, Mass., Nov. 17, 2012 – Cheryl Davidson could find no relief from the searing pain in her right knee. Osteoarthritis had destroyed the cartilage along the inner side of the joint where her thigh and shin bones meet. Without that flexible tissue cushioning them, raw bone hit raw bone. She was in agony 24 hours a day.
"I am the mom of four, and we all know delivering children is difficult," said Davidson, 51, of Plymouth. "But this here is every day, all day, a constant pain that is like a toothache magnified by a million that just won't stop. It takes your breath away."
In 2011, when Davidson first began having knee trouble, an orthopedist repaired a torn meniscus in her right knee. But the surgery did not produce lasting relief. Within months, pain again debilitated Davidson. Injecting cortisone, draining fluid from the joint, elevating and icing the knee no longer alleviated the hurt.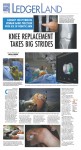 Last month, faced with the fact that all other treatment avenues had been exhausted, Davidson signed up for a new kind of surgery: partial knee replacement. Her young age and the fact that her cartilage loss was confined to one side of her knee made her an ideal candidate for this computer-assisted surgery, said Dr. Scott Oliver, chief of orthopedic surgery at Jordan Hospital. Doctors at Jordan began doing partial knee replacements in August. Quincy Medical Center also offers the procedure.
The technology driving this technique gives surgeons a robotic arm that interacts with computers to navigate inside a patient's joint. Using a burr attached to the robotic arm, surgeons remove damaged tissue and resurface the affected bone edges so that metal implants, which mimic cartilage, can be cemented onto them. The technique is done with equipment manufactured by the MAKO Surgical Corp.
"We've come from the dark ages. We're putting these (implants) in probably as precisely as we can get, and we're having better results and fewer complications," said Oliver, who operated on Davidson on Oct. 15, 2012.
A partial knee replacement is less invasive than a total knee replacement and allows a patient to recover more quickly, he said. And computer-assisted alignment and positioning of the implants greatly increases their life-span.The implant on the femur (thigh bone) is made of cobalt chrome. The base plate on the tibia (shin bone) is titanium.
Three weeks after her surgery, Davidson was walking without a cane and driving a car.
"Now it's working with me instead of against me," she said of her knee after a recent physical therapy session. "The pain is a positive pain, not a negative pain. Each day gets much better.
"There's so much more pain in the world than what's going on with me and my right leg. But it has to do with the quality of life. I couldn't fathom living with this pain for the next 30 years," she said.
"Being a person who limped, I look at other limping people. I just hope this (surgery) gives hope to some people."
Forty-two-year-old mom faces breast cancer a second time
PLYMOUTH, Mass., Oct. 20, 2012 – The chances of breast cancer coming back decrease with each successive year, and Plymouth resident Elise DeCola was thrilled when she passed the seven-year mark last May. But days later, the 42-year-old mother of two found a lump on the scar where she had had a double mastectomy. A surgical biopsy confirmed the cancer had returned locally to the site on her chest.
"The rug was pulled out from under me again," said DeCola, who first had breast cancer when she was 34 and still changing the diapers of her youngest child. "It was less surprising but just as jolting the second time."
She had gone through chemotherapy, a bilateral mastectomy and five years of Tamoxifen aimed at preventing her hormone receptor-positive breast cancer from coming back. Suddenly, the cancer was there again, intervening in her life and the lives of her husband Pete DeCola and their two daughters. The demands of work, children, after-school activities, music lessons, pets, and other daily routines don't wait for doctor appointments and chemotherapy. "Crazy," said DeCola, summing up her schedule. "I don't have time for (cancer) to define my life."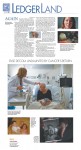 With her oncologist, Dr. Steven Come at Beth Israel Deaconess Medical Center in Boston, DeCola chose to undergo 12 weeks of chemotherapy. Later this month, she will begin seven weeks of daily radiation therapy. Following radiation, she will take anti-estrogen drugs targeting her kind of breast cancer. And because DeCola falls into the unusual category of having a local recurrence of breast cancer despite having had a double mastectomy, she may also have her ovaries removed to reduce the amount of estrogen in her body.
"Given a choice of doing more or less, Elise is definitely a person who would choose to check every box," said Come. "What we're going to do is pretty straightforward. What's going to happen, we don't know. That's something we all find out together. There's no way to know what the outcome will be. The focus is just trying to be sure her therapy is technically well done … because we can't control the rest.
"She's an intense, well-grounded, very busy person with a lot of reasons to stay well. She wants to do every possible thing she can to stack the odds in her favor," he said.
DeCola is optimistic. "I feel very fortunate that I'm here seven years later, and I intend to be here many years to come," she said. "But along the way, I've met and known many women who haven't survived. It's a disease that we see killing people."
The daughter of a long-term breast cancer survivor, DeCola carries intense concern for her own two daughters.Soon after she and Come had decided on a treatment plan, she sat down with Sofia, 8, and Emma, 11, to tell them her cancer had come back. "My 11-year-old came back to me and said, 'So mom, this means that you've survived cancer twice.' I said, 'Yes, you're right. I have.'
"How you communicate with your children, what your child can handle, is different for everyone. But I've found at every juncture with my kids that they have risen to the information and managed to put it in context much better than I'm able to most of the time."
Unemployment a shock for Pembroke man
PEMBROKE, Mass., June 22, 2012 – Seven months of networking and job interviews seemed to finally pay off for Neal Bowler: On May 1, the Pembroke resident went to work for the first time since last September.
But that relief didn't last long. A month later, Bank of America told him the project was moved out of state and its 13-month consulting contract with him would be terminated. That morning, Bowler walked out of the Federal Street office in Boston's financial district and again joined the ranks of Massachusetts' 209,000-plus unemployed people.
Despite the latest setback, Bowler remains optimistic. Within a week, the 52-year-old father had one job interview, and another the following week. He continues to network and send out resumes. Shifting gears so fast, he said, requires flexibility and a willingness to learn, change and grow. It's not easy. But it's necessary.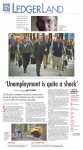 "I thought the only people out of work were people who were lazy or not motivated, and that was the exact opposite of myself," Bowler said. "When you start looking at people who are out of work, it's truly overwhelming. You go to some of these networking groups, and some of these people have tremendous backgrounds."
Most Massachusetts workers receiving unemployment compensation are white men, many between 45 and 54 years old, according to state officials. And nearly one in four have college degrees, like Bowler, who earned a bachelor's degree in business administration at Northeastern University.
When Bowler graduated in the 1980s, he figured he would find a steady job and spend most of his career working for a single company. But new technologies, global trends and economic downturns have changed his career path. After college, Bowler got a job as a project manager, first for New England Telephone, which later became Verizon. Bowler held the job – which involved managing and analyzing the profitability of different telecom packages – for 21 years until the phone company began laying off landline staff in 2006. Since then, he has worked in the telecom industry, in full-time positions and as a consultant.
"When I started working for New England Telephone back in 1985, the goal for all of us was to work 30 years and get your pension and the gold watch." Bowler said. "When I was working (before) and heard about layoffs, I would never be able to wrap my head around it. How can people be working on Friday and not on Monday?"
When Bowler is out of work, his wife Bonnie's paycheck, his unemployment check of $625 a week, and their savings keep the family afloat. Bowler credits Bonnie, who works full-time in real estate, and their kids – Alex, 16, and Joy, 10 – for keeping him motivated.
"I want this to be a teaching moment for them (his children), because the storms will hit them one day and I don't want them to think, 'Well, my dad had adversity and he caved in,'" Bowler said. "I always try to tell them, 'When you get down, you have to get back up and continue to do what you believe in.' I want them to be proud that adversity didn't stop me."
Bowler attends meetings of Wednesday Is Networking Day, a job search organization. He reaches out to people he knows. He posts his resume at LinkedIn.com, Monster.com and Career.com. He was hired for the short-lived Bank of America gig when a headhunter found his resume on JobQuest, the state's online job board.
"Unemployment is quite a shock for people, especially those who have worked for years in high tech, financial services, manufacturing and even health care, academia, and nonprofits," said Larry Elle, facilitator of the Canton-based WIND/South group. "Many people have been out of work for over a year and older workers have had an especially hard time becoming re-employed."
Bowler said the experience has been humbling. "But with your faith and your family, you get through it," he said. "You work your rear end off. You have no other choice. You can either give up – or you fight and live to fight another day (and) keep running until you cross the finish line."